Sick of synthetic scents you can taste?
BOHALI NIGHTS MASSAGE CANDLE
Regular price
Sale price
$48.00 USD
Unit price
per
Sale
Sold out
AVAILABLE FOR PRE-ORDER SHIPPING BY OCT 1ST
Although subtle, our natural, soothing scent has the unique ability to calm your nervous system. Synthetic fragrances simply don't measure up. 
This herbaceous balm massage candle with notes of sweetness takes you on an Ionian sea journey to stimulate and invigorate senses and relax body and mind. 

Let your imagination take you on a drive up the narrow, winding hilltop roads of Zakynthos to the quaint village that is Bohali. As the sun sets, the air is warm and salty, there is a light aroma of wild herbs, flowers, and pine trees dancing around you.
Created using the finest natural fragrance and essential oil, our fragrance is not overpowering and perfect if you love candles but don't love the taste or headaches that come with them. Instead with Bohali Nights you'll feel the relaxing Geranium melts away stress, Grapefruit uplifts spirits and cleanses the mind and Rosemary adds a warm and stimulating note of fresh mountain air. 
Oh and yes... balm! Blow the candle out and pour into palms to keep clean skin on body, hands and feet silky soft with a calming scent.
Share
KEY BENEFITS

· Relaxing Geranium melts away your stress
· Invigorating Grapefruit uplifts your spirits and cleanses your mind
· Earthy Rosemary adds a warm and stimulating note of fresh mountain air
INGREDIENTS

Hydrogenated Soybean Oil, Cocos Nucifera (Coconut) Oil, Prunus Armeniaca (Apricot) Kernel Oil, Pelargonium graveolens (Geranium) Flower Oil, Rosmarinus officinalis (Rosemary) Leaf Oil, Citrus grandis (Grapefruit) Peel Oil, Limonene`, Linalool`, Geraniol`, Citronellol`, Eugenol`
`Natural constituent of essential oils
Wick 100% cotton
USES

· Always trim the wick before lighting, this eliminates carbon burn.
· Burn within sight. Keep away from flammable objects. Keep away from children and pets and always extinguish candles after use.
· Make the most of our candle by using the soft wax as a balm.
· Light the cotton wick, take a bath, and scoop the wax and use as a balm to enjoy a soothing massage.
· Because we use essential oils instead of synthetic fragrances, our candle takes longer to release the scent. We recommend keeping it lit for 1-2 hours for the initial burn, which also prevents tunneling.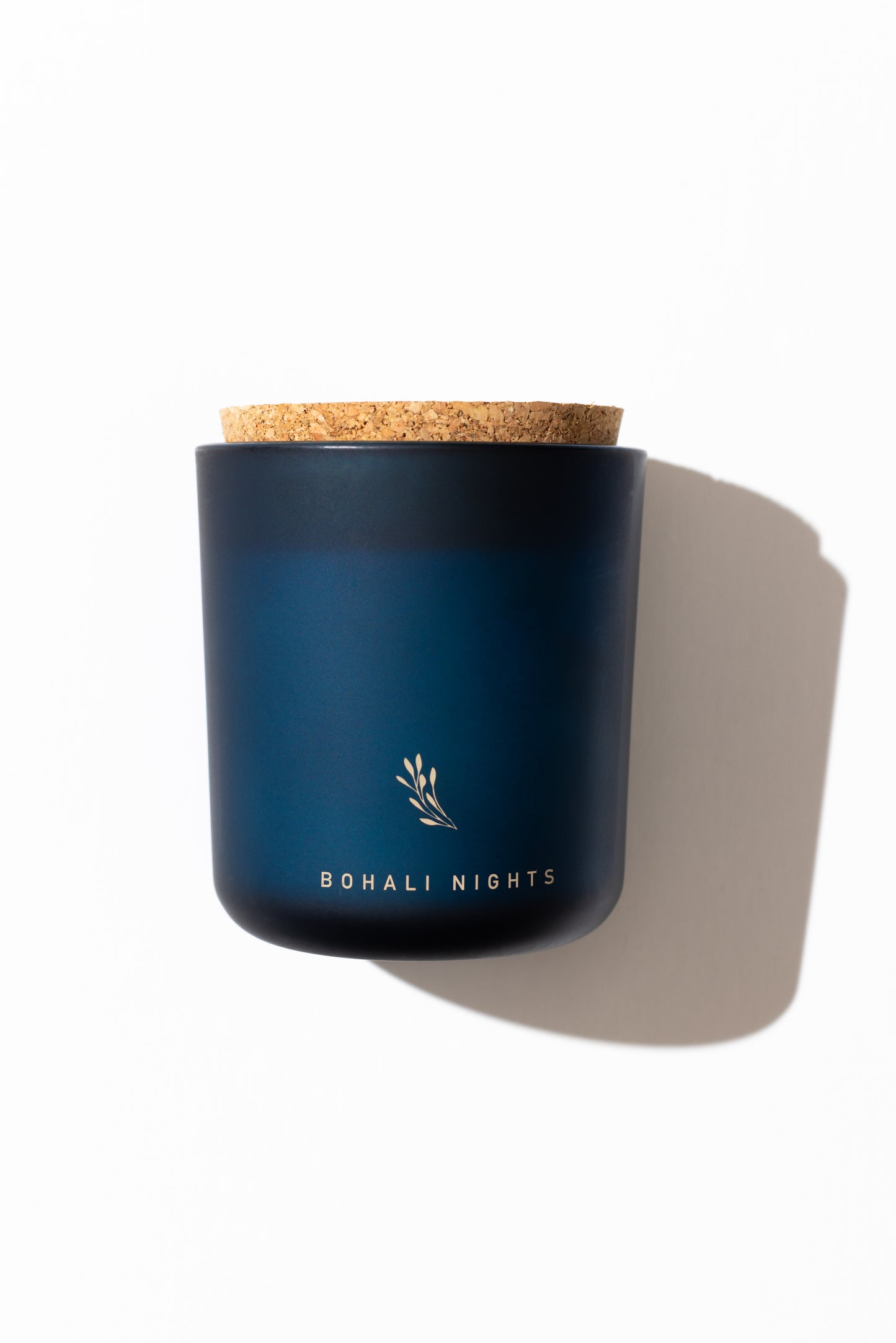 KEY INGREDIENTS
Rosemary

Sourced from Egypt and Bulgaria. Stimulating minty, herbaceous scent contains powerful antioxidants and antimicrobials.

Candle Oil Blend

Clean burning blend of coconut, soy (non-gmo) and apricot. Blended to soothe and moisturize
the skin. Low melting point that prevents overheating, perfect for massage.

Grapefruit

Formulated from naturally compounds of grapefruit peel. Invigorating and uplifting aroma. Mood balancing.

Geranium

In aromatherapy, geranium essential oil is used to melt away feelings of stress and tension. It also effectively tightens skin by eliminating dead skin cells. Combined with the earthiness of chamomile and hydration of olive oil, geranium flower adds subtle yet complex floral notes to an overall simple combination.
A daily must-have!
I use this every single night after dinner clean up. It completely transforms my home into a calm environment and is perfect for everyone to start winding down from the day. I can't wait until these are back in stock.
Correction
Hydrogenated, not hydrogenation.
Nice-smelling candle
I don't like that the oil is hydrogenation and would not use it as a skin treatment because of that. I also worry about the industrial treatment of soybeans and how that contaminates them if they are not grown organically. If they changed these 2 things about the candle it would be perfect! So I hope they do that.
Thank you for your review. We value your opinion and completely agree that organic ingredients are top priority. Due to the chemical change that soybean oil goes through, the wax cannot meet an Organic Certification. However, we have done our utmost to make the candle as clean as possible! Stay tuned for an upcoming blog post explaining our candle ingredients + process.
Obsessed.
Once again, Ouli's does it perfectly! This is a light, yet seemingly powerful scent that leaves your space feeling like a day at the spa. Every time someone walks into my home after burning this candle..they remark at the fragrance. LOVE IT!
Don't we all need less?
On average, women use 12 personal care products a day, exposing themselves to 168 chemical ingredients. Men use six, exposing themselves to 85 unique chemicals.
This is why we create simple and adaptable products with an ingredient list you can understand. Our products save you time getting ready, understanding ingredients and enhance the beauty that you already are.